The holiday season is upon us, and what better way to spread joy than by choosing the perfect Christmas gifts for your little ones? Finding that ideal present can be both exciting and challenging. To make your holiday shopping a breeze, we've curated a list of 27 Christmas gift ideas that will not only delight your kids but also make this festive season truly memorable.
1. Personalized Storybooks
Transform storytime into a magical experience by gifting your child a personalized storybook. Seeing their name woven into a captivating tale adds an extra touch of enchantment.
2. Interactive Learning Games
Combine education with entertainment by choosing interactive learning games. From math puzzles to science experiments, these Christmas gifts promote learning in a fun and engaging way.
3. DIY Craft Kits
Nurture your child's creativity with do-it-yourself craft kits. Whether it's making holiday-themed ornaments or creating their own masterpieces, these kits provide hours of artistic enjoyment.
4. Building Blocks and Construction Sets
Encourage imaginative play with building blocks and construction sets. From towering castles to futuristic spaceships, these toys enhance problem-solving skills while fostering creativity. This is one of the great Christmas gift idea for your kid.
5. Outdoor Adventure Gear
For the little explorers, consider outdoor adventure gear. Binoculars, compasses, and nature exploration kits inspire a love for the great outdoors and fuel their sense of discovery.
6. Musical Instruments for Kids
Unleash the musician within your child with age-appropriate musical instruments. Whether it's a mini keyboard, a set of drums, or a ukulele, these Christmas gifts cultivate a love for music.
7. Glow-in-the-Dark Stickers and Decals
Transform their room into a magical wonderland with glow-in-the-dark stickers and decals. From stars to animals, these luminous decorations add a touch of whimsy to bedtime.
8. Board Games for Family Fun
Strengthen family bonds with classic board games. From Monopoly to Scrabble, these timeless favorites provide hours of entertainment for the whole family.
9. Tech Gadgets for Kids
Introduce your child to the world of technology with age-appropriate gadgets. Kid-friendly tablets, educational apps, and interactive robots make learning tech skills a delight.
10. Subscription to a Kids' Magazine
Fuel their curiosity with a subscription to a kids' magazine. From science to art, these monthly deliveries offer a constant source of excitement and learning.
11. Outdoor Play Equipment
Encourage active play with outdoor equipment like a swing set, trampoline, or a mini basketball hoop. These Christmas gifts promote physical activity and healthy habits in your kids.
12. Themed Dress-Up Kits
Let their imagination run wild with themed dress-up kits. From superheroes to princesses, these sets provide endless opportunities for creative role-playing.
13. Educational Robotics Kits
Combine fun and learning with educational robotics kits. These hands-on activities teach programming basics in an entertaining way, preparing your child for the future.
14. Puzzle Sets for All Ages
Challenge their minds with puzzle sets suitable for different age groups. Whether it's a jigsaw puzzle or a brain-teasing maze, these gifts enhance cognitive skills.
15. Soft and Cuddly Stuffed Animals
Every child appreciates a cuddly companion. Choose a soft and huggable stuffed animal in their favorite character or animal for a comforting and heartwarming Christmas gift.
16. Adventurous Bedding Sets
Transform bedtime into an adventure with themed bedding sets. Whether it's their favorite movie characters or a dreamy galaxy print, these sets make bedtime exciting.
17. DIY Science Kits
Spark their curiosity with do-it-yourself science kits. From growing crystals to conducting simple experiments, these kits make learning science fun and hands-on.
18. Personalized Wall Art
Give their room a personalized touch with custom wall art. From name signs to growth charts, these decorations add a sense of identity to their space.
19. Kid-Friendly Cooking Sets
Inspire a love for cooking with kid-friendly cooking sets. Mini utensils, aprons, and simple recipes make the kitchen a place for fun and delicious adventures.
20. Remote-Controlled Toys
Bring excitement to playtime with remote-controlled toys. From cars to drones, these gadgets provide hours of entertainment while enhancing fine motor skills.
21. Inflatable Bounce Houses
Create a mini playground at home with an inflatable bounce house. These Christmas gifts turn your backyard into a space for active play and endless laughter.
22. Magic Kits for Budding Magicians
Foster a sense of wonder with magic kits. From card tricks to disappearing acts, these sets allow your child to become a magician and amaze friends and family.
23. Art Supplies Galore
Fuel their artistic talents with a variety of art supplies. Sketchbooks, colored pencils, and paints open the door to endless possibilities and creative expression.
24. Character-themed Backpacks
Make school days more exciting with character-themed backpacks. Whether it's a favorite cartoon or movie character, these backpacks add a touch of personality to their daily routine.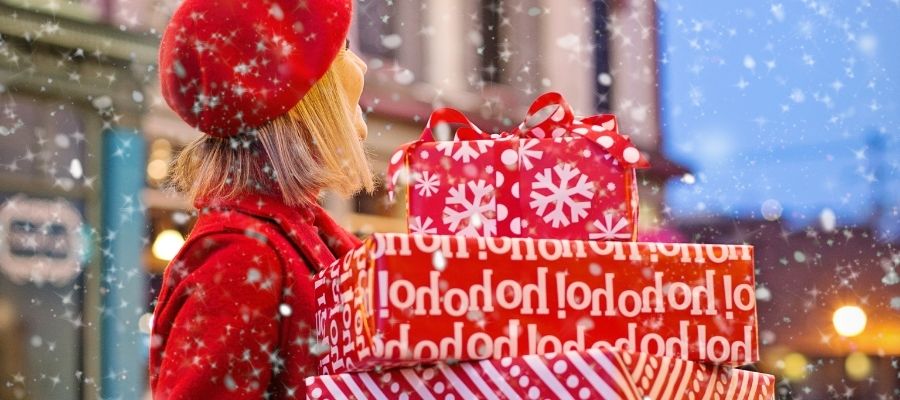 25. Storytelling Puppet Sets
Bring stories to life with storytelling puppet sets. These interactive toys enhance language skills and provide a unique way for your child to express themselves.
26. Indoor Obstacle Course
Transform your living room into a thrilling indoor obstacle course. Use pillows, blankets, and household items to create a challenging and exciting adventure.
27. Camping Gear for Indoor Adventures
Encourage indoor camping with kid-friendly camping gear. A play tent, sleeping bags, and pretend campfire create a cozy campsite for imaginative indoor adventures.
In conclusion, finding the perfect Christmas gift for your kids involves a blend of creativity, education, and fun. Whether it's sparking their curiosity with science kits or fostering their artistic side with DIY craft sets, the options are vast. Choose gifts that align with their interests, and you'll create cherished memories that last a lifetime. This holiday season, let the spirit of giving bring joy and laughter to your household.
Also Read: