Sexual life is a very important part of everyone's life. There are lots of fancy sex toys available in the market to spice-up things but nothing can beat the erotic role playing. Erotic or sexual role-play has become a trend amongst new couples. But some of us still are not familiar with it. It involves performing some particular sexual act to arouse the sexual feeling. Erotic roleplay ideas can lead to an exciting married life or romantic relationship. You can also learn shibari, if you want to practice bondage.
Erotic or sexual role playing ideas can attract many couples for different reasons. Although these reasons vary from a couple to another.
Below is the List of Some Possible Reasons for Erotic/Sexual Role Playing Ideas:-
1. Opportunity to take a break from regular sex life.
2. Opportunity to experience great intimacy with new sexual acts.
3. Opportunity to fulfill sexual desires of each other.
4. Help people to understand their partners better.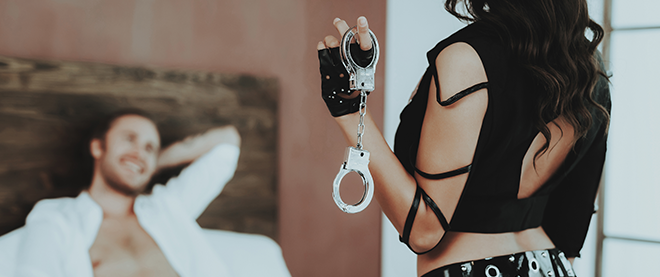 Benefits of Hot Role-Playing Ideas for Couples:
Well, there are some benefits of these sexy role playing ideas no matter how weird it seems.
1. A Communication Channel
Hot role playing Ideas can work as a good communication channel between partners. Partners have to share their secret fantasies with each other. It helps them to break the silence between them. They can share deep secrets of sexual desires with each other. Role-playing is extremely beneficial for long-term couples.
2. Keep the Spark Alive
It is true that some people lose interest in their partner after some time. As a result, they sometimes find other people to fulfill their needs. Sexual roleplaying ideas can keep the spark between couples alive because they can live their fantasies with their partners.
3. Boost Self Confidence
Fantasy role playing ideas help in maintaining your self-confidence. As per reports of some specialists, people lose confidence while in long term relationships although it is just their mundane sex life. Erotic Role play helps them to break the walls of routine life and sexual life.
Some of the most common erotic role playing ideas is listed below:
1. Switch It Up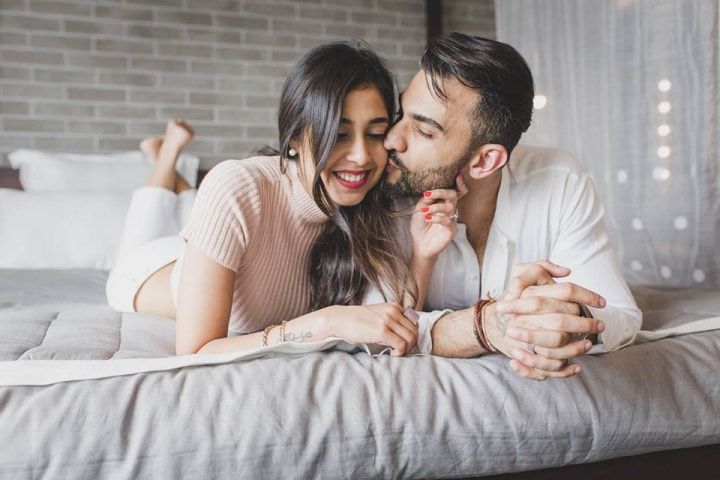 Well, it is a role play idea for couples/beginners. It is common that during sexual acts one partner act dominative while the other remains submissive. But reversing these roles can change the dynamics in your bedroom. And couples can talk about exaggerating their power during the act.
2. Special Service Guy
These roleplay ideas for the bedroom can bring out the best and wild side of your partner. In this one partner acts as a pizza delivery guy or plumber and you need to pay him/her for the service. But your money bag is nowhere to be found. You ask if you can pay for the service to them in some other way, and well… you get the idea.
3. Under Your Magical Spell
In this scenario, one partner does not have any control over his/her action as they are under the magical spell of their partner, who acts as a hypnotist. In this act one partner fulfills the desire of another.
4. Stranger at a Bar
In this, both partners act like strangers who met at a bar or restaurant. Playing stranger or anonymous will allow couples to be sexually creative. In it, people have to use their flirting skills.
5. Doctor-Patient Sexy Roleplay Ideas
As it is clear from the name that this sexual role-playing idea for couples is an erotic act between a doctor and a patient. Now the decision of who wants to be a doctor and who wants to be a patient depends on the couple.
6. In the Train
This erotic role-play idea can give many possibilities to couples. In this act a couple can act as co-passengers. Or one of them can be an attendant and one can be a passenger.
7. An Erotic Massage Therapist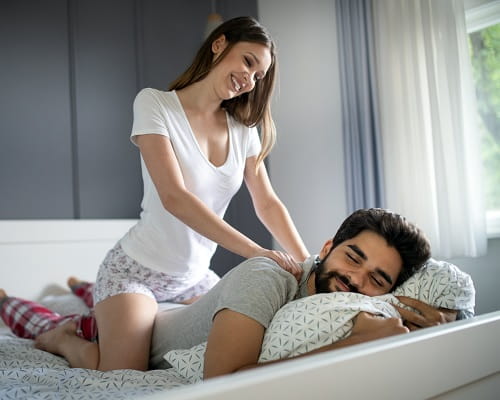 Erotic Massage Therapist Role-Playing
To act as a service provider at a massage center. An all-the-way massage can open endless possibilities during the act. Lingam massage or yoni massage and tantric massage are some of the massages you can try. This is one of the romantic role-playing ideas couples should try at least once.
8. Friend Turned Lover
I think you all must be familiar with the movie named Friends with benefits. In the movie two best friends turned into sexual relationships. I think you got the idea. So, go meet your best friend.
9. Biggest Fan of Celebrity
He/She can act as a famous celebrity and others will act as his/her biggest fan. And fans can do anything for their favorite stars. Who is your favorite celebrity?
10. The Secretary
Well, this sexual role-playing idea in the bedroom is the most popular one, no matter how regular it seems. In this, you try to seduce the man or woman who has power over you. Maybe you get to be the boss of your partner.
11. Yoga Instructor Couple-Role Playing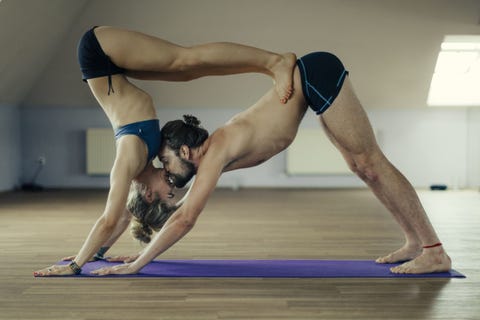 Yoga Instructor Couple-Role Playing
If you think it seems childish then it's not your fault. This is a sexual role-playing idea for beginners. This role play is more sensual than sexual. It is realistic and subtle.
12. Top Models
It is one of the most common fantasy role playing ideas. Two top models getting high paying projects. And preparations lead to the intimate relation between them.
13. Sexy Maid (Best Erotic Role Playing Idea for Couple)
Well, the fact is men fall for the lady who takes care of them. And if that woman is a sexy maid, who gives horny poses while doing domestic chores. Now that is a fantasy role play idea you can use.
14. Teacher-Student
Classic roleplay ideas for couples to act as teacher and student. A student can do anything to get high grades. It is a win-win situation for both teacher and student. Students get grades and teachers get love.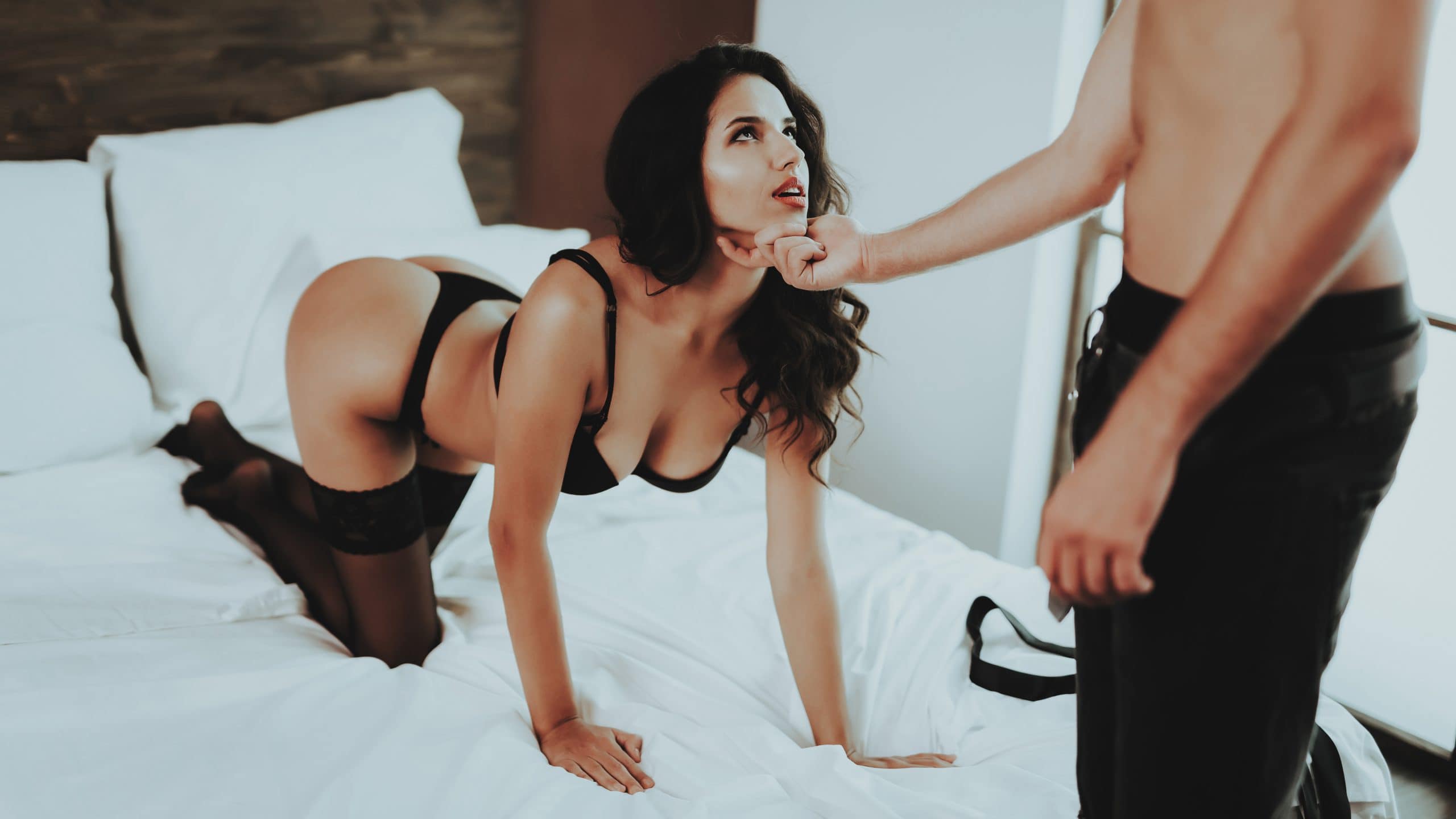 15. Porn Stars
Everyone has a favorite porn star with whom they want to be intimate. So they can act as their favorite porn star to fulfill the erotic role play ideas of their partner. They can try the same positions of their favorite porn star.
16. Call Girl or Gigolo
Well, in this sexual role playing suggestions act like you are paying for the sexual service the other person is providing you. Let your imaginations run wild.
17. The Head Cheerleader and Best Footballer
It is very common to have a relationship between the head cheerleader and the best footballer. It is a role playing idea for beginners. You should treat each other like a star.
18. The Strict Boss and Employee
It is a classic example of fun roleplay ideas. You can do some favors to your boss to get the employee of the month award. You must try out this sexual role paying idea to spice up your relationship.
19. Angry Couple
Well sometimes anger brings the best out of you. Pretend an angry couple who throw their tantrum at each other. Sexual acts in anger are sometimes best. Steamy angry sex is one of the best role play ideas for bedroom.
20. The Police and Thief
In this hot role play, one can play a corrupt police officer and another can play a thief. The thief doesn't have money to pay for his/her release to the police. But obviously, they can be paid in some way.
Well, now you have many erotic roleplay ideas. It is time for you to put the theory to practice. You just need to call your partner.
Also Read:
1.Top 20 NetFlix Original Web Series to Watch in 2022
2.15 Nutritional Facts of Turmeric That Everyone Must Be Known